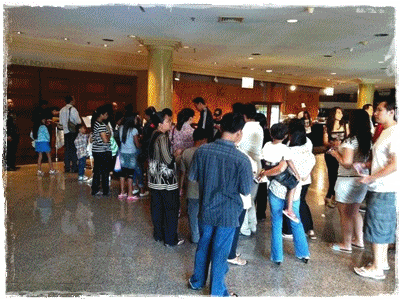 The Westin Resort Nusa Dua, Bali has once again hosted a successful charity event for the Check out for Children program, a global partnership between Starwood Hotels & Resorts and UNICEF. The event not only raised money for children in need but also inspired an audience of youngsters with an exhibition of martial arts.
Spirit Of A Champion showcased four different kinds on martial arts to an enthusiastic spectators in the resort's Nusa Indah Hall. The event opened with a demonstration of the traditional Indonesian martial art known as Pencak Silat performed by the members of the Bakti Negara organization. The energetic movements of Bali's very own version of Capoeira were then put on display by a local group that has been training for just two years under the banner of Zungu Capoeira.
A dynamic Barongsai performance (Chinese Lion Dance) by a troupe from Klenteng Tanah Kilap Kuta, Bali captivated the audience with acrobatic feats to the rhythmic beat of a traditional drum. However, the highlight of the evening was a Wushu demonstration by national athletes from Yayasan Kusuma Wushu Indonesia. This final act celebrated the spirit of martial arts and incorporated a display of movements by a young boy who recently won a gold medal in an international Wushu competition.
"We were extremely proud to host such an inspiring event showcasing the talents of local youngsters. Having sold more than 1,400 tickets, we are now able to help educate impoverished children throughout Asia Pacific. Our annual charity show has become a highly anticipated family event on Bali's social calendar," commented Mr. Bipan Kapur, General Manager of The Westin Resort Nusa Dua, Bali
For 16 years UNICEF and Starwood Hotels and Resorts have been working together to raise funds for the world's most vulnerable children – with over AUD$7M raised since the program began. All funds have been used to immunize thousands of children against major childhood diseases including diphtheria, whooping cough, tetanus, polio, measles, childhood tuberculosis and hepatitis B.
For the very first time, money raised in the Check Out for Children Challenge 2011 will fund UNICEF's education projects throughout the Asia Pacific!
The impact of a child's education is long-lasting; as children of educated mothers are 50% more likely to survive until the age of 5 than those whose mothers didn't get a chance to go to school. Funds raised will help UNICEF;
• Build and improve school facilities.
• Provide quality teacher training in impoverished areas and essential school supplies.
• Help children return to schools after emergencies with 'school-in-a-box' kits.
• Provide teaching programs for ethnic minority areas.
• Communicate awareness of gender and health issues in schools.
Together we can make a difference and create a world fit for all children!
This event was sponsored by Pengurus Besar Wushu Indonesia, Zungu Capoeira, Bakti Negara, Garda Printing, Bali and Beyond Magazine, Hard Rock Radio Bali, Bali Advertiser, Bali Hotels Front Liners Association, Jonggrang Bali –Creative.